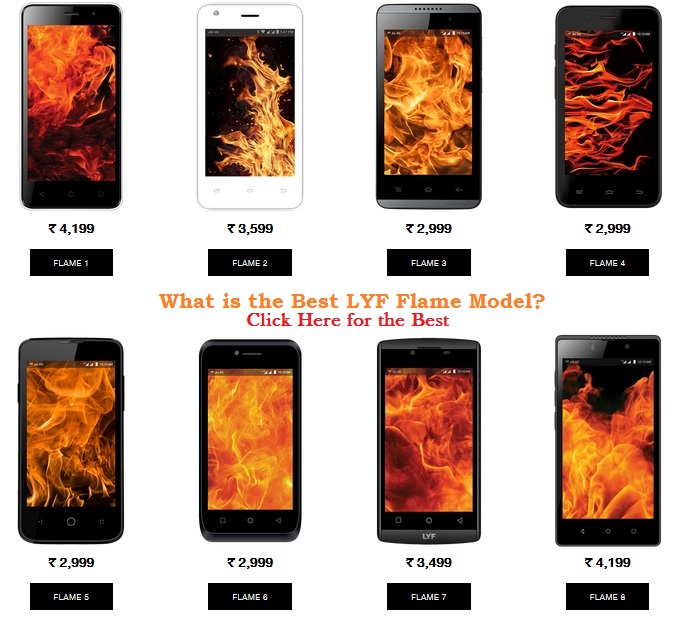 Reliance Jio launched the Flame series on its LYF Brand at affordable prices under rupees 5,000 with Reliance Jio sim with it's bundle offer of Unlimited high-speed 4G Data, Unlimited Voice Calls and Unlimited Messages till Dec 2016. So are you confused to choose the the best one, then check our Flame mobiles price list below will provide you with all the information you need to get the Flame mobile of your choice.
The Flame series runs on Android Lollipop 5.1 and also the software system itself uses more than half of the RAM. Flame 3, 4, 5 and 6 models priced 2,999 are 512 RAM. These models are only used for some basic operations like Voice calls and messaging. But if you are game lover or use most social media apps like Facebook,Twitter or Whatsapp kills so much RAM and phone lags and force stops.
What is the Best LYF Flame Model?
For this question our Answer is Flame 7 at best Price of 3,499. It has Quad-core 1.5 GHz with 1GB RAM and 8 GB Internal Memory and Expandable Up to 32 GB. Flame 7 comes with a 1750 mah Lithium ion battery which is able to last up to 7 hours 4G. It has 5 MP primary camera on the rear and a 2 MP front camera for selfies and video calls.
The price of Flame 1 and Flame 8 ar at Rs 4,199 and their processor was low powered Quad-core 1.1 GHz and 1 GB RAM and 8GB Internal Memory. The only main difference between Flame 7 and Flame 1&8 is Flame 1 and 8 has screen size of 4.5 inch and Flame 7 is 4 inches. Since Processor and RAM plays crucial role on smartphone performance it's always better to choose smartphones with more processor speed and good amount of RAM under your budget.
FLAME 2 Vs Flame 7
For FLAME 2 and FLAME 7 the price difference is rupees 100 i.e FLAME 2 is rupees 100 higher than FLAME 7 you go for FLAME 7 since Processor power of FLAME 2 is lower than FLAME 7. FLAME 2 processor has Quad-core 1.0 GHz with 1GB RAM and 8 GB Internal Memory  and FLAME7 comes with Quad-core 1.5 GHz with 1GB RAM and 8 GB Internal Memory. Both have same screen size 4 inches. But battery capacity of FLAME 7 (1750 mah) is more than FLAME 2 (1500 mah). So finally the winner is FLAME 7.
Check below the Detailed comparison table of all FLAME models markets Right now
FLAME 1

FLAME 2

FLAME 3

FLAME 4

11.43 cm (4.5)
1.1 GHz Quad-Core
1GB RAM, 8GB Memory
Rear 5MP, Front 5MP Camera
2000 mAh Battery
10.16cm (4)
1.0 GHz Quad-Core
1GB RAM, 8GB Memory
Rear 5MP, Front 2MP Camera
1500 mAh Battery
10.16cm (4)
1.5 GHz Quad-Core
512MB RAM, 4GB Memory
Rear 5MP, Front 2MP Camera
1700 mAh Battery
10.16cm (4)
1.5 GHz Quad-Core
512MB RAM, 8GB Memory
Rear 2MP, Front VGA Camera
1400 mAh Battery

FLAME 5

FLAME 6

FLAME 7

FLAME 8

10.16cm (4)
1.5 GHz Quad-Core
512MB RAM, 4GB Memory
Rear 5MP, Front 2MP Camera
1650 mAh Battery
10.16cm (4)
1.5 GHz Quad-Core
512MB RAM, 4GB Memory
Rear 2MP, Front 2MP Camera
1750 mAh Battery
10.16cm (4)
1.5 GHz Quad-Core
1GB RAM, 8GB Memory
Rear 5MP, Front 2MP Camera
1750 mAh Battery
11.43cm (4.5)
1.1 GHz Quad-Core
1GB RAM, 8GB Memory
Rear 8MP, Front 5MP Camera
2000 mAh Battery